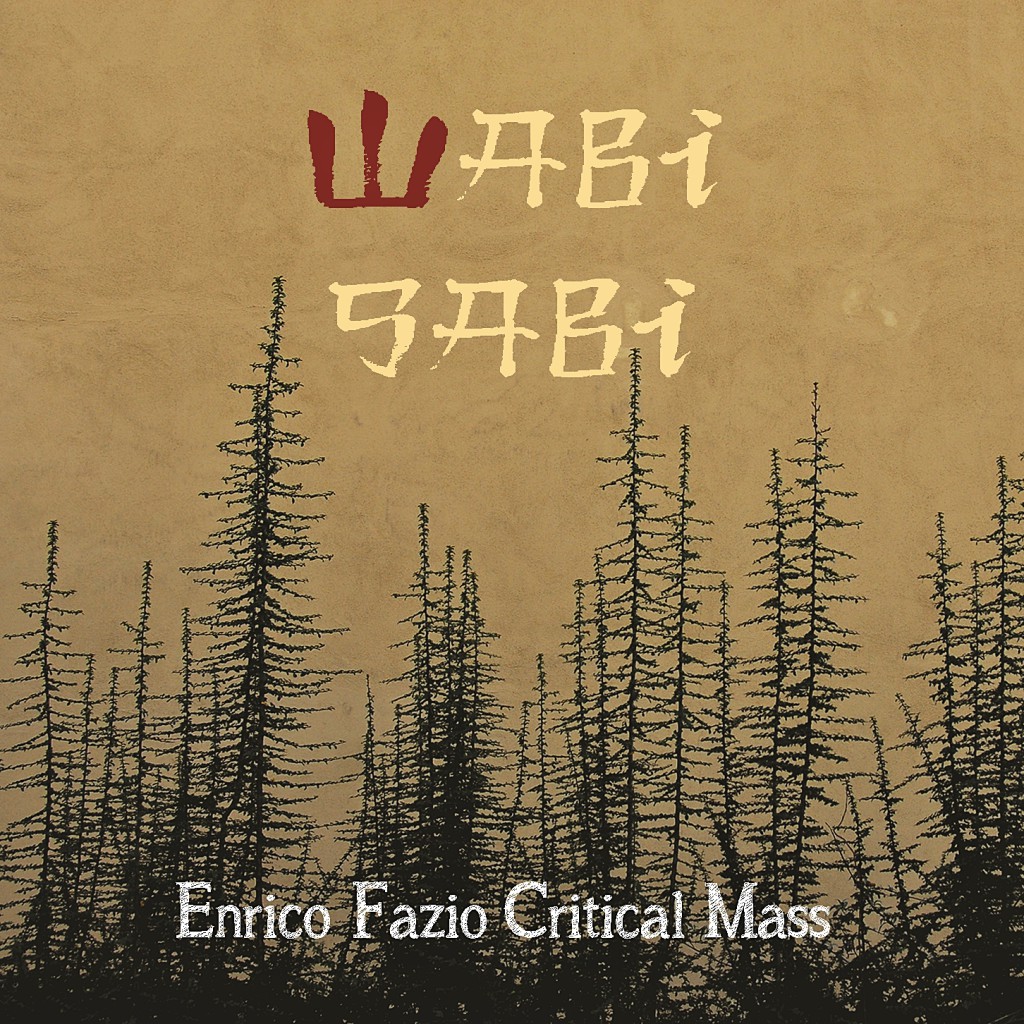 CD LR 862 – LeoRecords  ::  BUY HERE!!!
Luca Campioni | violin
Anais Drago | violin • 5strings electric violin
Alberto Mandarini | trumpet • flugelhorn
Gianpiero Malfatto | trombone • euphonium • flute
Adalberto Ferrari | clarinet • bass, contrabass & turkish clarinets
Francesco Aroni Vigone | soprano & alto saxes
Gianni Virone | tenor & baritone saxes • lead flute
Enrico Fazio | composition • double bass • electronics
Fiorenzo Sordini | drums • percussion

_

Valeria Sturba | theremin on track 5
Moustapha Dembèlè | kora • djembe • tamani on tracks 2-3-4-5
Simone Ghio| keyboards (and more…) overdubbing
***
ABOUT "WABI SABI"
"Monk believed in the beneficial nature of errors, which opened intriguing perspectives… If you're not ready to make mistakes, you ain't going nowhere, right?"  Steve Lacy
According to the tradition, zen masters include a mistake in their works on a voluntary basis, they do it because perfection is a divine feature, not human.
For many years, my interest has been centred on the relation between writing and improvising, which I develop through complex and atypical structures.
This project, just like my last works, has been recorded without any preliminary rehearsals: this allows a more instinctive and creative response on solos welcoming some unavoidable risks, as well. Here is the origin of the title Wabi Sabi, a zen concept to be interpreted as "the beauty of imperfection".
E=mc2 • dedicated to the amazing musicians who took part in this project; it represents the colour, the energy and joy of this ensemble.
Main solos: Gianni, ts; Alberto, flh; Francesco, as; coll.

Lilo Variations • a cell of the soundtrack of the animation film Lilo & Stitch inspired this track.
Main solos Luca, vl + Anais, el vl; Adalberto, bass cl; Francesco as

A Waltzy Raga • re-editing of one of the tracks I wrote in the '80s, an imaginary trip from Mali to India, travelling through Europe, based on alternation of ternary form and 11/8.
Main solos: Moustapha, kora; Gianni, fl; Gianpiero, trb; Luca, vl; Gianni, ts; Anais, vl + Adalberto, turkish cl; coll

Sliding Times • a final theme repeated 9 times, every time a note shifts on the melody line; the initial collective is built on theme fragments, freely re-elaborated by woodwinds.
Main solos: coll; Alberto, tp

Overshoot day • it is the day in which every year – and every year earlier – the world's renewable resources run out and the natural heritage is undermined; this is my sort of Pithecanthropus Erectus, a tango-like composition in which reckless man moves towards self-destruction disregarding our world's warnings…
Main solos: Gianni, bs, Luca, vl; Valeria theremin + Francesco, as; Luca, vl; Anais, el vl

Lectio Magistralis • as the title says, a complex song made of polyrhythms and concise writing.
Main solos: Adalberto, cl; Gianpiero, trb; Alberto, tp; coll
A big thank-you to Daniele for the cover photo, to Giulia for this translation, to Pippi for the recording.
My special thanks to my wife Fosca, for her patience and expertise in mixing and for her invaluable
and never-ending support… She dedicated more time and energies to this album than to her poetry.
E.F.
[English translation – Giulia Bertagnolio]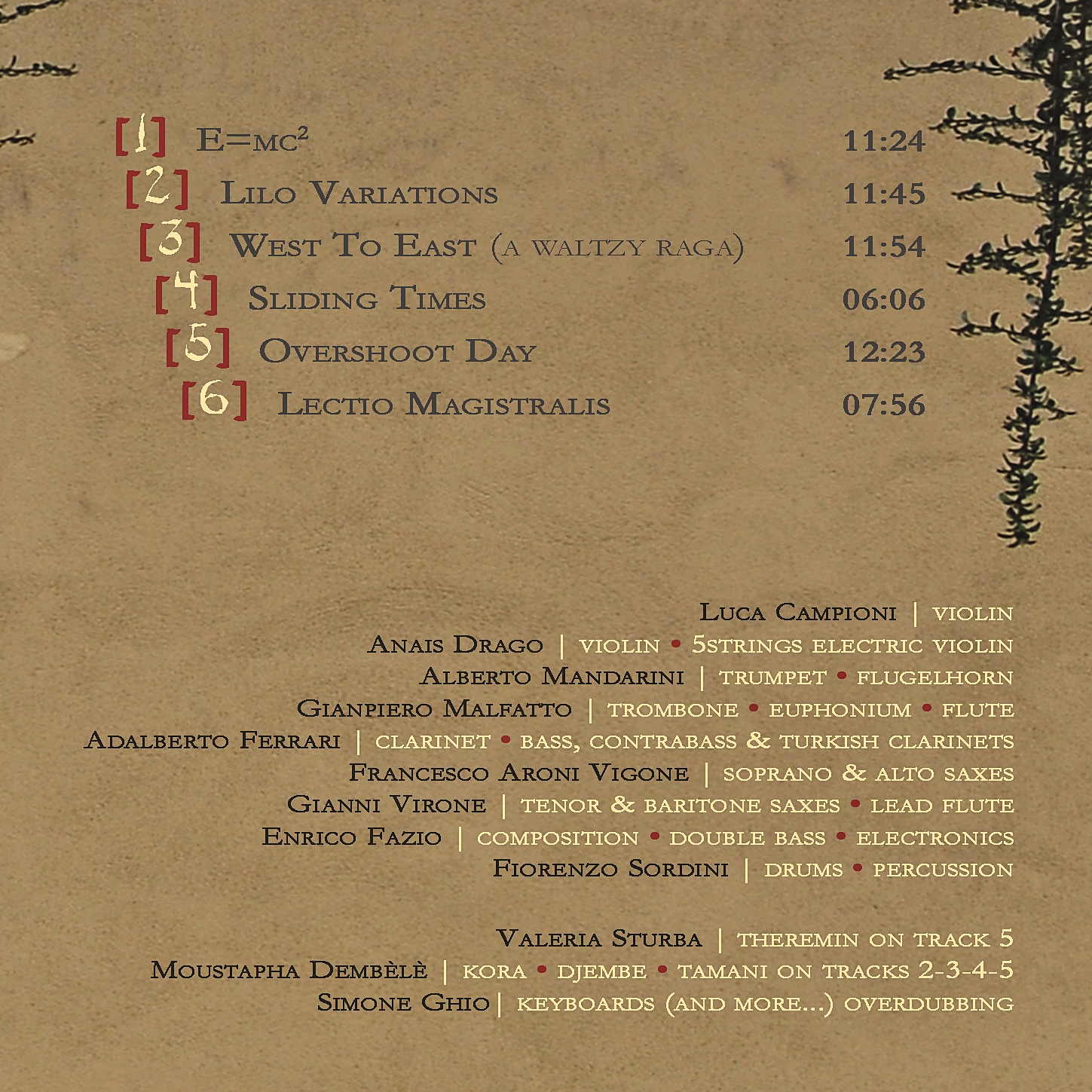 All music composed & arranged by Enrico Fazio; published by Alissa Publishing/PRS
Recorded on November 2017 at (52+1)Studio, Agliano Terme (AT) Italy
Sound engineer – Pippi Adogontour Leardi & Fosca Massucco
Mixing – Fosca Massucco at (52+1)Studio, Agliano Terme (AT) Italy
Mastering – Maurizio Giannotti at NewMastering Studio (MI) Italy
Cover photo – Daniele Fazio
Produced by Enrico Fazio & Leo Feigin